MAZON President and CEO Testifies on Hunger Facing Veterans and Military Families Before House Rules Committee
The food pantries that operate on or near every military base in the United States are quiet reminders of the pervasive hunger crisis among those who serve in our military, Abby J. Leibman, MAZON's President and CEO, told lawmakers in Congress yesterday. Leibman was an expert witness in a roundtable discussion of the U.S. House of Representatives Committee on Rules convened by Chairman Jim McGovern (MA-02) to examine food insecurity among veterans and military families. 
The full video of Leibman's testimony and response to lawmakers' questions can be found here, and her written testimony can be found here. Additional panelists included Dr. Colleen Heflin of Syracuse University, Kathy Roth-Douquet, CEO of Blue Star Families; Mark Walker, Associate Director of Swords to Plowshares in East Oakland, and Chad Morrisson, CEO of the Mountaineer Food Bank in West Virginia. 
"We all know that COVID-19 has exposed the gaping holes in our country's nutrition safety net. We are facing a true hunger crisis," Leibman said during her testimony. "Millions of Americans are facing food insecurity for the first time in their lives, including those who currently serve our country and those who have served in the past. Military families face unique challenges related to spousal unemployment, frequent relocation, and persistent stigma and shame that exists around acknowledging they are food insecure and applying for programs like SNAP." 
Leibman's testimony comes on the heels of MAZON's comprehensive report, "Hungry in the Military: Food Insecurity Among Military Families in the United States," that she co-authored last month. The report details the hunger crisis among military families and proposes common sense policy solutions for Congress and the Biden administration.  
The solutions to address hunger among military families MAZON proposed in the report include: 
Passing the bipartisan

Military Hunger Prevention Act

in Congress, which would enact the Military Family Basic Needs Allowance policy that MAZON developed to address food insecurity among military families.

Executive action from the Biden administration to ensure housing allowances do not count as income in determining eligibility for federal nutrition safety net programs and implore the government to re-examine military pay levels so they meet the needs of service members. 

Further collaboration between Congress, the administration, anti-hunger advocates, and community organizations to share and publicize data on military hunger to understand the scope of the problem and change the stigmatized narrative around hunger.
MAZON proposes addressing food insecurity among military veterans by:
Ensuring SNAP work requirements do not prevent veterans from receiving nutrition assistance when they cannot find employment.

Connecting more veterans to federal nutrition assistance programs like SNAP.

Collecting more data and information about food insecurity among veterans.

Encouraging federal agencies, including the Department of Defense, Department of Agriculture (USDA), and Department of Veterans Affairs to share data and collaborate to address food insecurity among veterans in the United States. 
Issues of food insecurity among veterans and military families are currently at the forefront of the national conversation on hunger, especially as the country observes Memorial Day. Just this week, USDA's Economic Research Service released a new report, which found that veterans have a 7.4% greater risk for food insecurity than nonveterans. This important report confirmed what MAZON has long raised before lawmakers and the public — veterans face an array of unique challenges related to service-connected disabilities, employment, educational attainment, access to transportation, and the unfortunate stigma and shame associated with programs like SNAP. 
Earlier this month, an article in the Journal of Nutrition found a correlation between food insecurity among servicemembers and mental health issues (i.e. depression, anxiety, and suicidal ideation), and intentions to leave the military.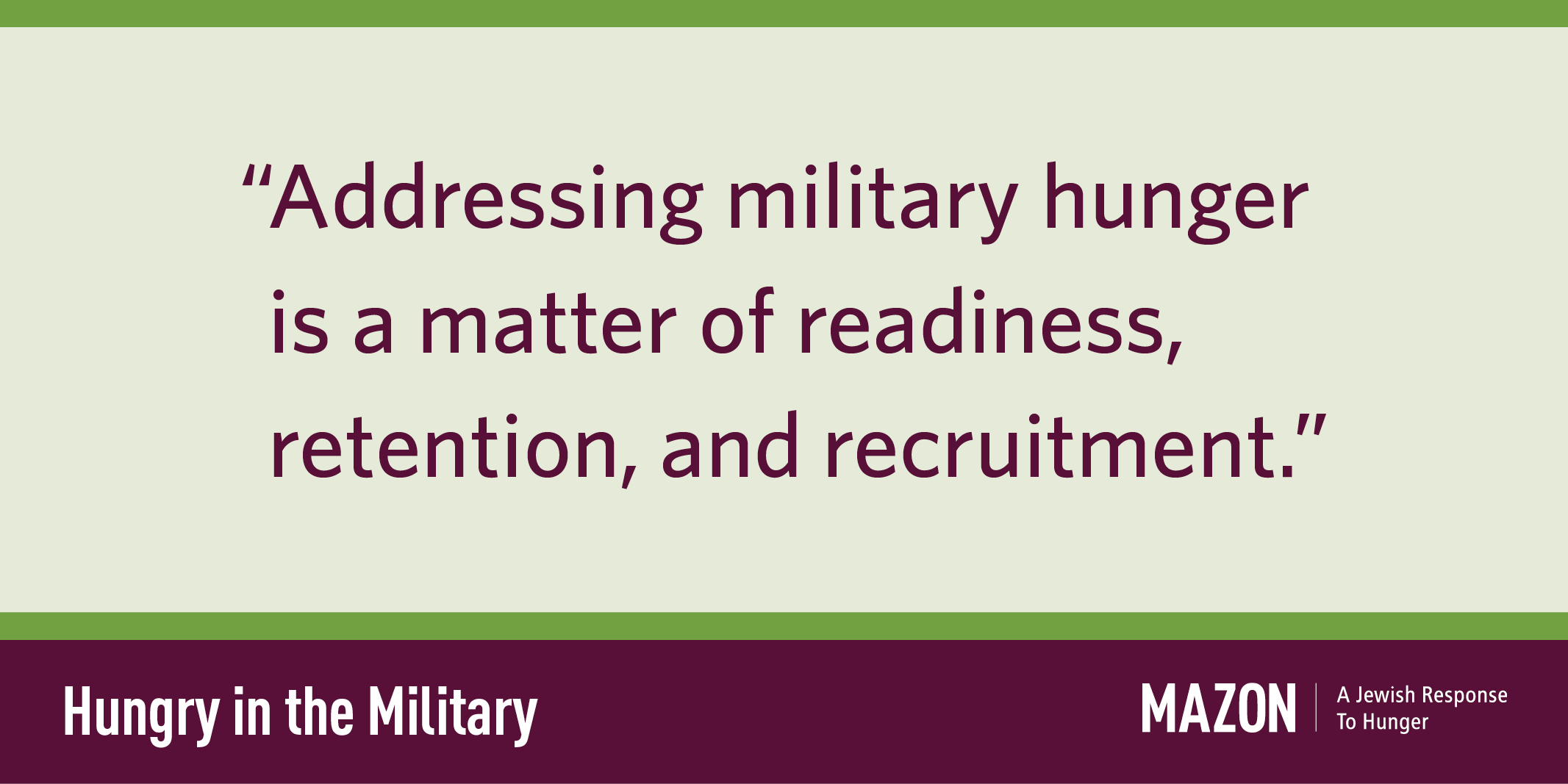 Yesterday's roundtable was the latest in a series of Rules Committee events about hunger in the United States. The series is part of Chairman McGovern's request for the White House to convene a Conference on Food, Nutrition, and Hunger and to include a focus on hunger among veterans and military families. 
"Something is badly broken here," Chairman McGovern said during the roundtable. "Those who serve, risk their lives for us, they need to eat. We need not to manage this crisis — not to simply say that it exists — but to finally bring it to an end."
Learn more about MAZON's work to address hunger among veterans and military families, and take action today.